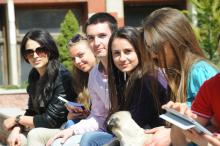 The lecture will not be held due to inability of the lecturer to attend at the scheduled time. The lecture is postponed and the exact date will be scheduled soon.
On Friday, 27.11.2015, at 14h, in the Amphitheater of FSCE, an invited lecture on development of software products by Ashant Chalasani, CEO of euroblaze™ and specialist for E-commerce in Germany.
We invite all interested to attend the event.
Further information on the lecture and brief curriculum vitae of the lecturer can be found at the following link.