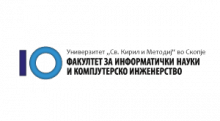 Ве покануваме на предавањето на тема "From Recurrent Neural Networks to Human Neuronal Networks and Back: A Computational Bio-Cybernetics", што ќе го одржи проф. д-р Георги Димировски, професор во пензија од ФЕИТ-УКИМ, Скопје, како и гостин-професор при Универзитетот Догуш, Истанбул, Турција.
Предавањето е во организација на Македонската секција на IEEE (здружен оддел CAS/CIS/CS и одделот за компјутери), Факултетот за електротехника и информациски технологии (ФЕИТ) и Факултетот за информатички науки и компјутерско инженерство (ФИНКИ), а ќе се одржи на 14.2.2019 (четврток) со почеток во 12 часот, во салата за конференции на ФЕИТ.
Темата на предавањето произлегува од трудот кој проф. д-р Георги Димировски го има објавено заедно со Professor Kevin Warwick, Deputy Vice-Chancellor for Research (retired), University of Coventry, England, United Kingdom.
Во прилог  се дадени детали околу предавањето, како и кусата биографија на проф. д-р Георги Димировски.